Product Care
Our products are made up of two different materials: rhodium brass and stainless steel. In our shop section, every individual product will have a detailed description on the type of material it is made of.
In order to enhance the longevity of your jewelry please avoid direct contact with perfume, chlorine, prolonged sun exposure, and other miscellaneous chemicals (beauty products, home cleaning supplies and the like).
Below are easy steps for upkeep: 
​
1. Warm water with mild soap or vinegar rinse.
2. Make sure jewelry fully dries before use.
3. Avoid wearing your jewelry to bed.
Replacements
​
If you are experiencing any quality concerns with your jewelry, please email us at :
support@jaseljewelry.com
we will assist you with the next steps.
Dainty
Dainty chains are delicate jewelry pieces known for their fine and simple design. These chains often feature small, elegant pendants or can be worn on their own for a minimalist look.
Material: 14K Gold / Rose Gold / Sterling Silver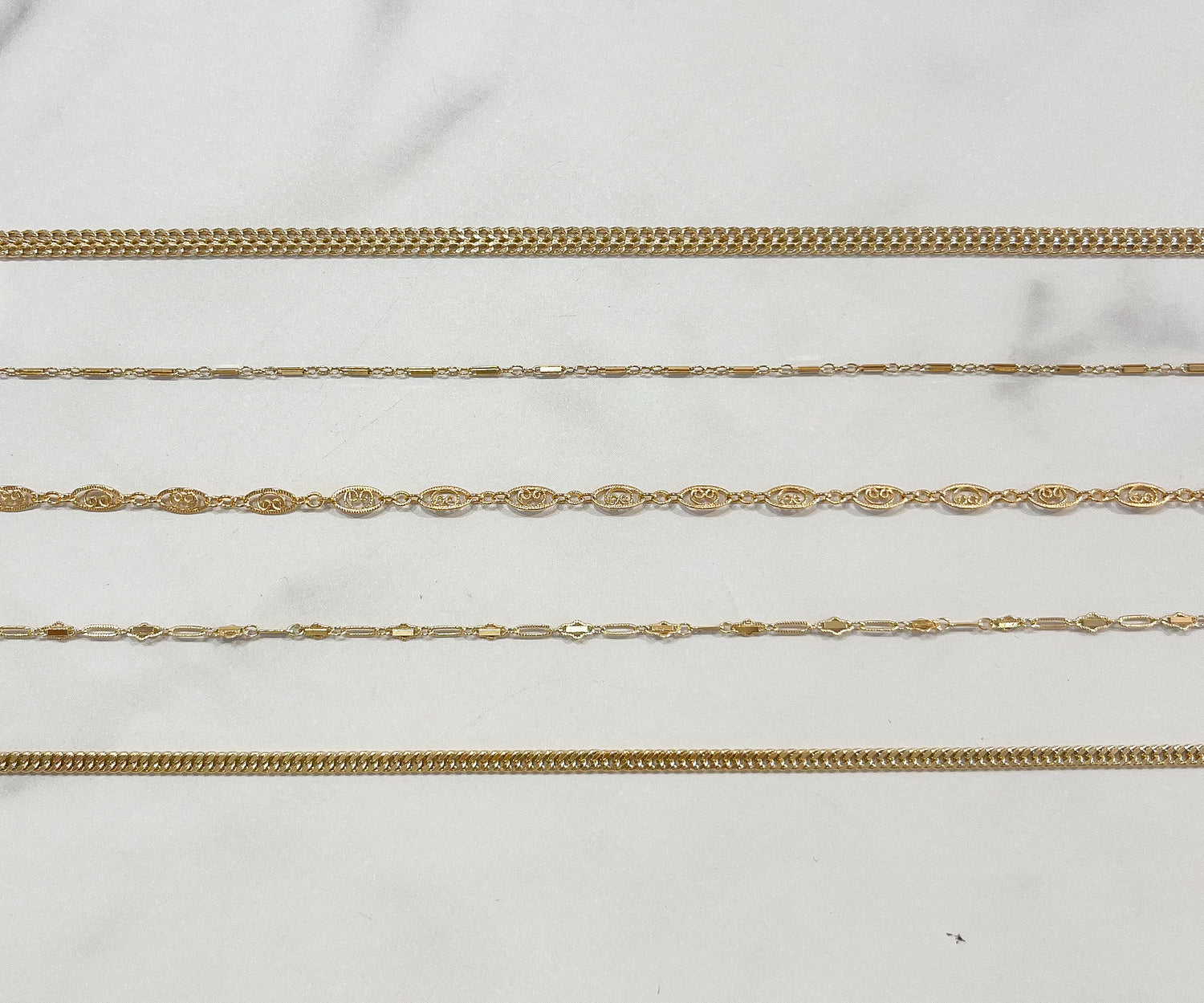 Unique Designs
Chains with unique designs showcase unconventional and creative aesthetics that set them apart from traditional styles.They offer a way to express individuality and stand out with a touch of artistic flair.
Material: 14K Gold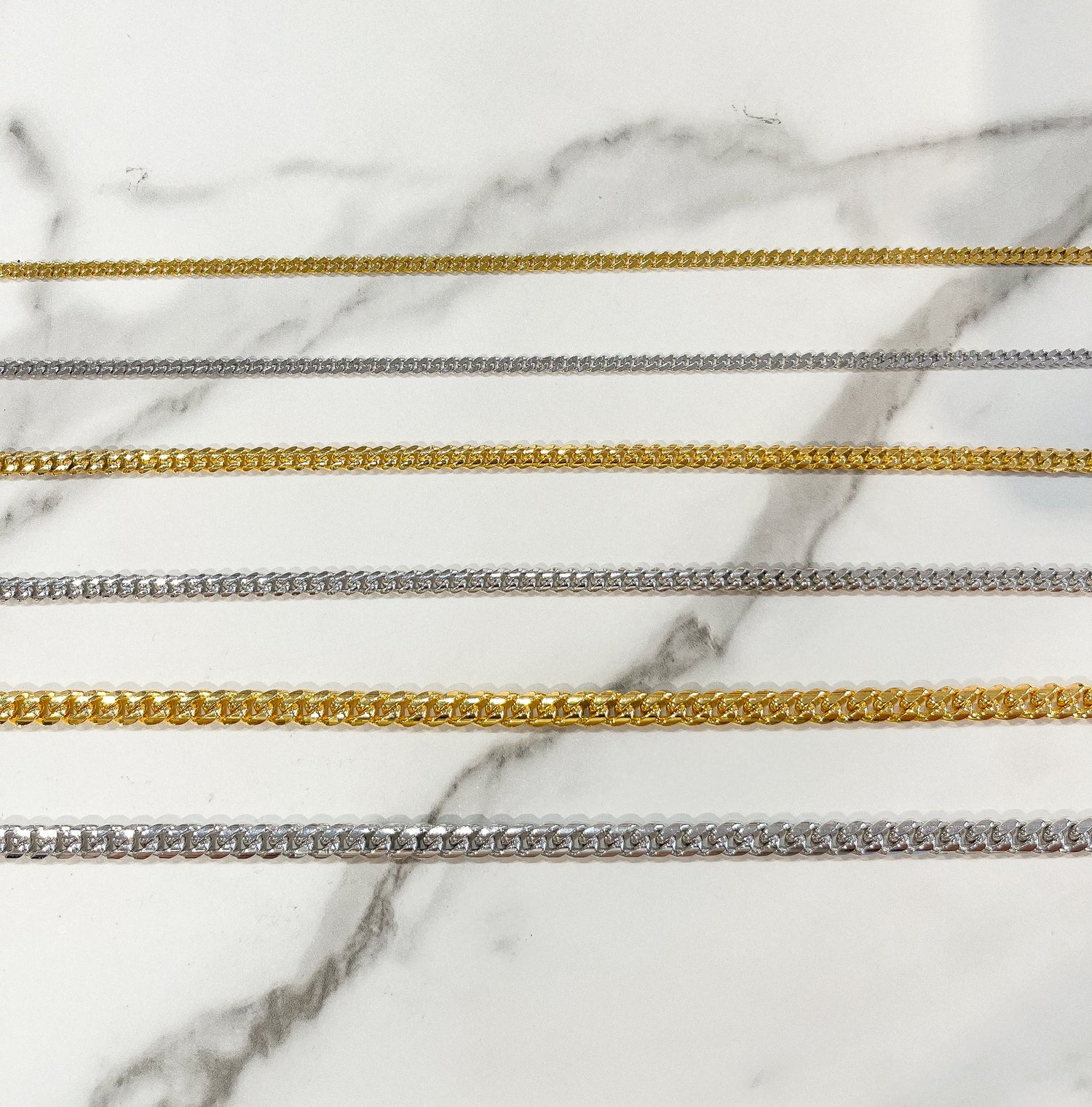 Chunky Silver and Gold
Chunky gold and silver chains are popular in both men's and women's fashion, offering a versatile accessory option that can be dressed up or down to suit various occasions and styles.
Material: 14K Gold / Sterling Silver
Pricing starts from $80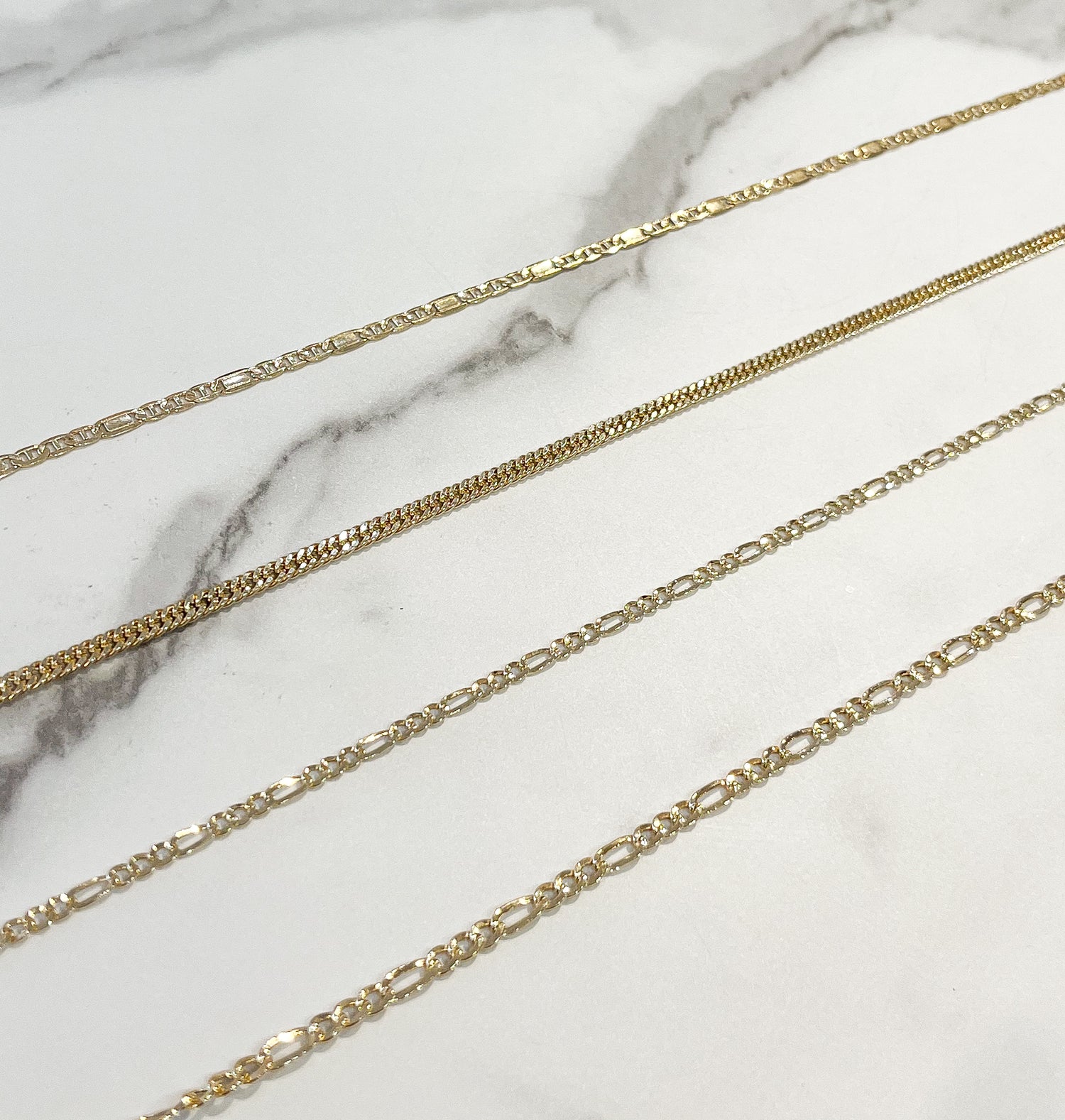 Classic Gold
Unleash your bold and fearless spirit with our captivating collection of classic gold. Crafted to make a statement, these chains boast substantial links that exude confidence.
Material: 14K Gold / Sterling Silver / Gold Filled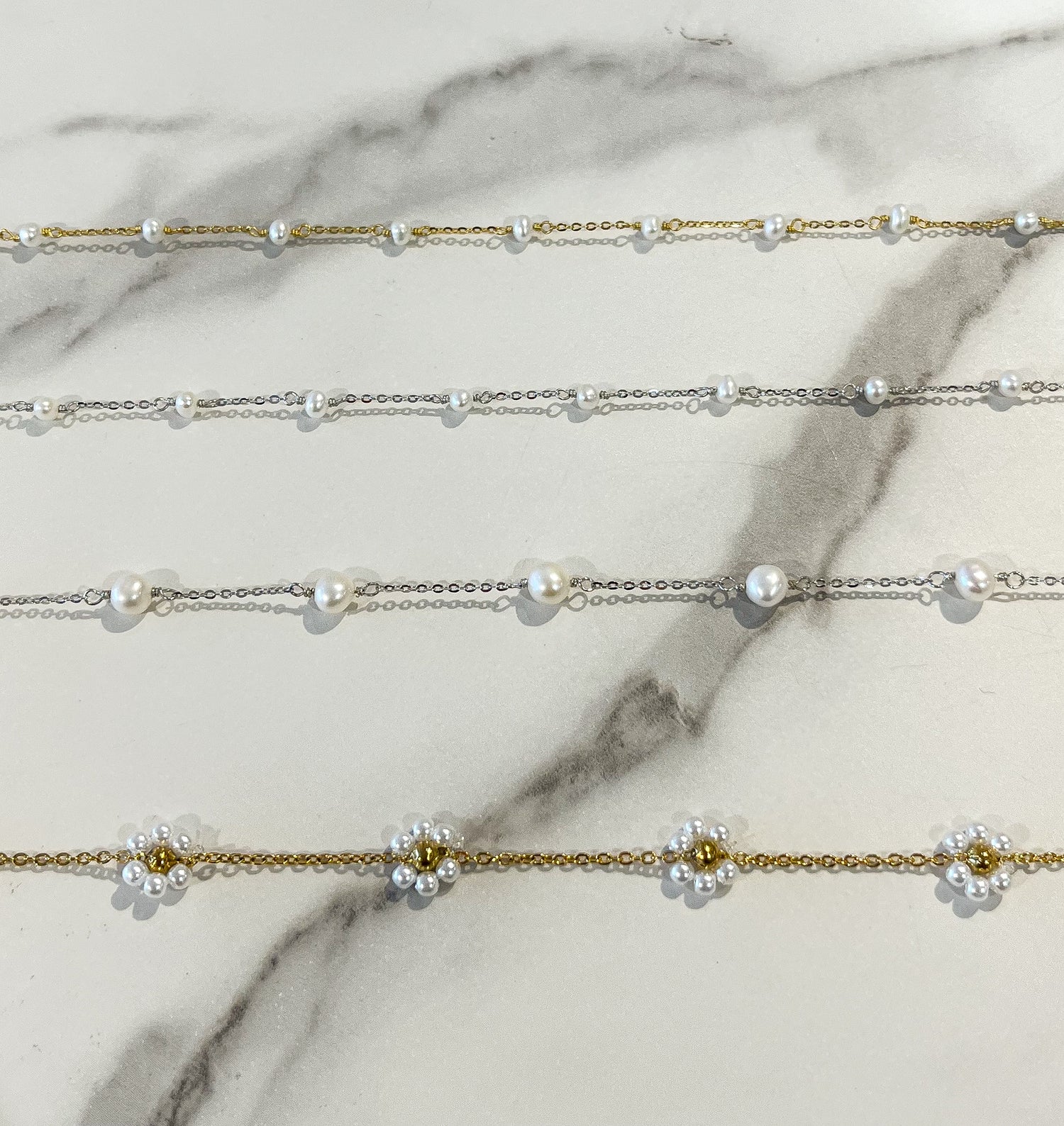 Pearls
Adorn yourself with timeless elegance through our exquisite pearl-accented chains.
Material: Gold Filled/Sterling Silver
Pricing starts from $55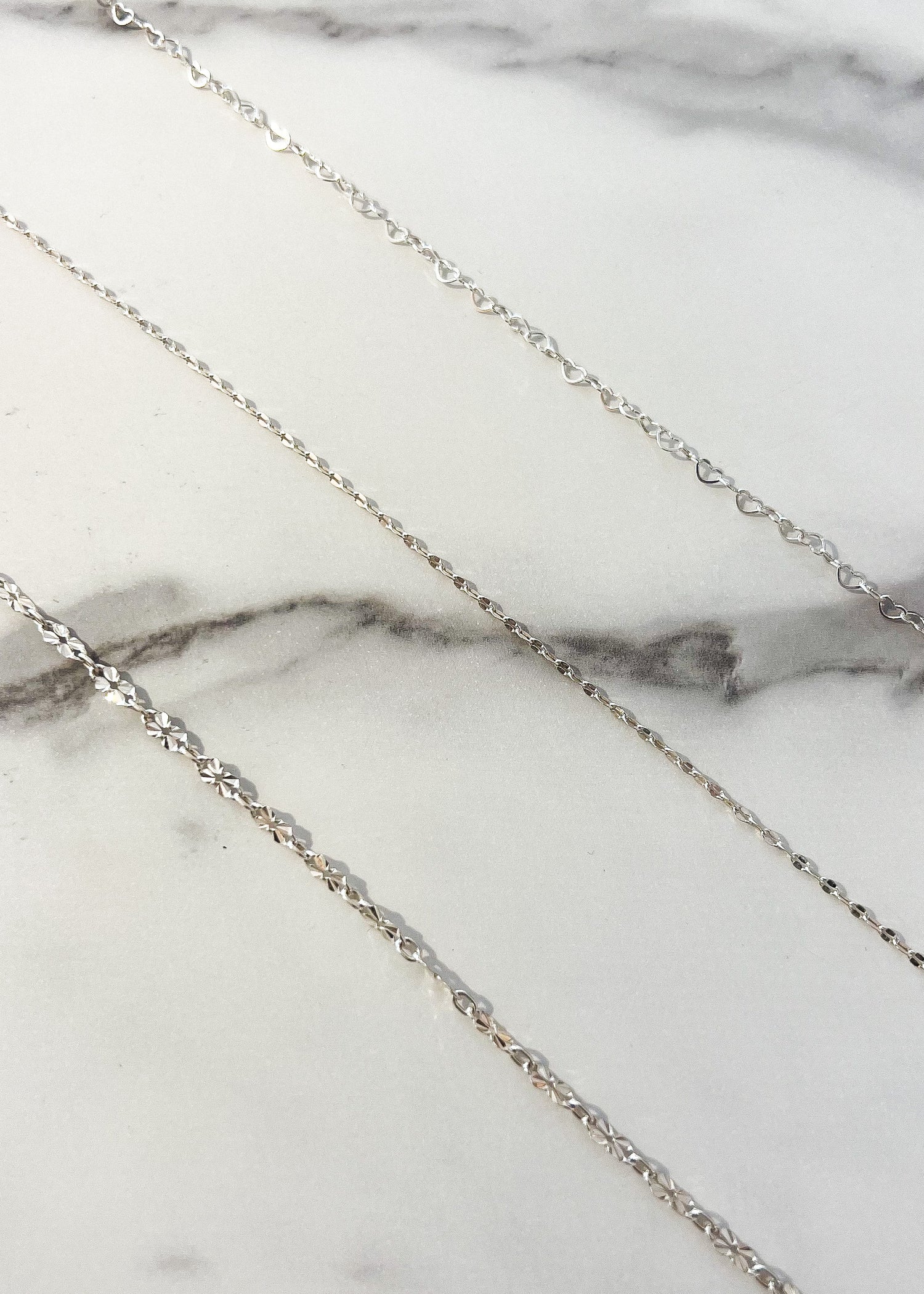 Classic Silvery
Discover the artistry in simplicity with our silver chains. A reflection of timeless elegance that graces your style. 
Material: 925 Sterling Silver
Pricing starts from $55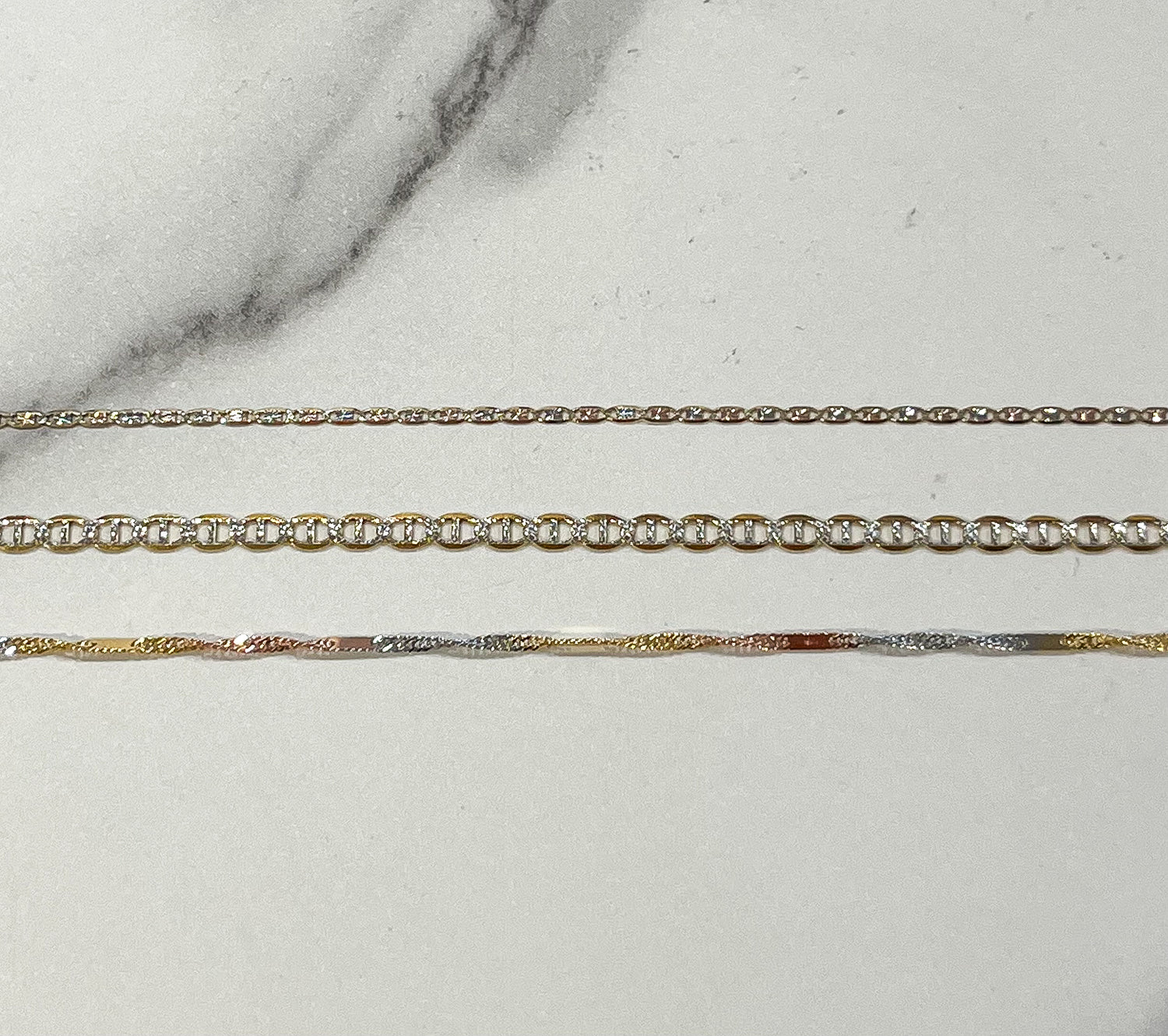 Mixed Gold
Discover the artistry of tri-gold chains, where the brilliance of yellow, rose, and white gold harmoniously unite. These chains seamlessly transition from day to night, effortlessly enhancing your elegance.
Material: 14K White Gold, Yellow Gold and Rose Gold
Pricing starts from $175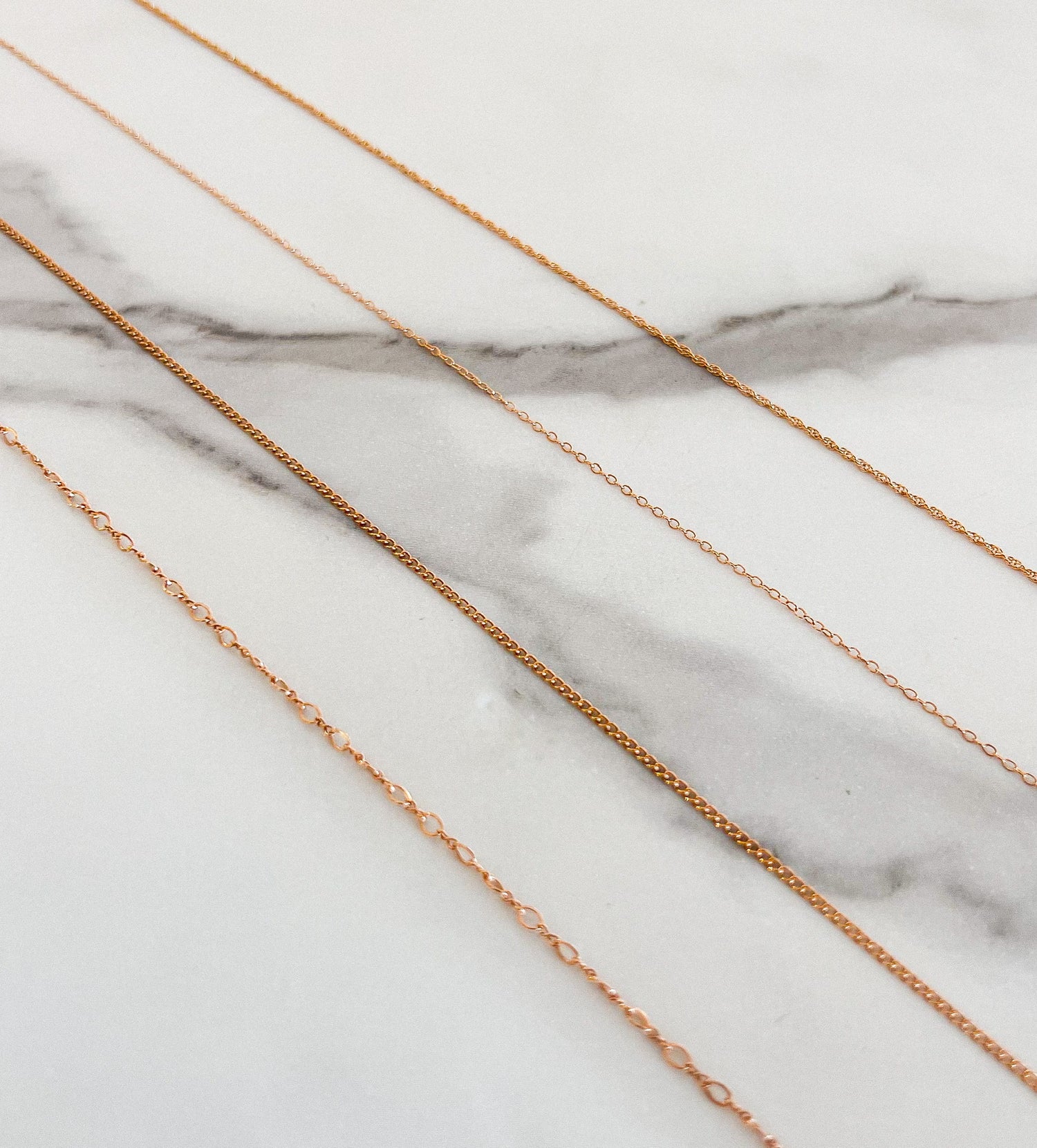 Serene Rosé
Wear the embodiment of everlasting sophistication with our rose gold chains. Each chain tells a story of elegance, a dance between copper and gold that culminates in a rosy embrace. 
Material: Rose Gold Filled or 14K Solid Gold
Pricing starts from $50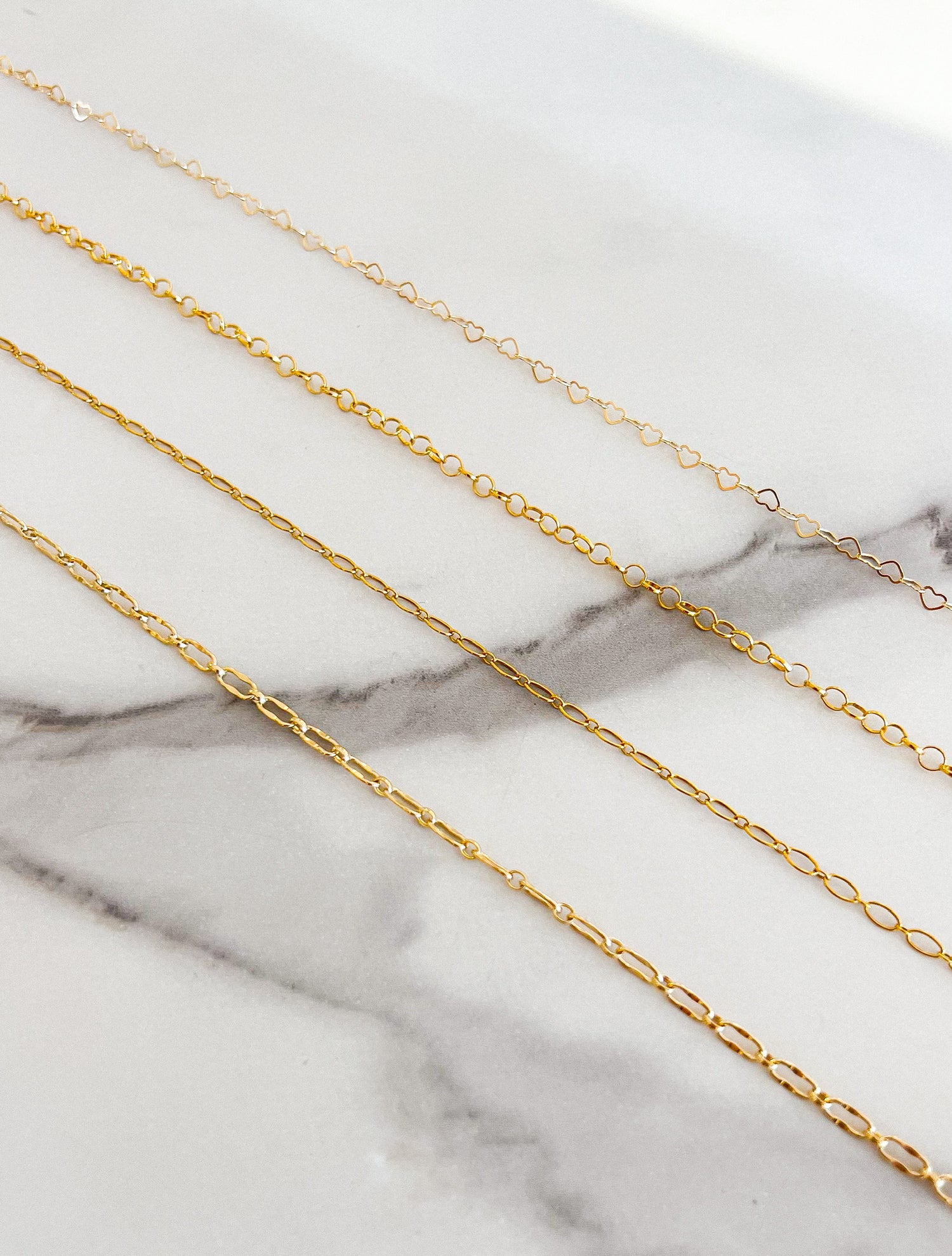 Golden Radiance
Tiny treasures that shimmer with golden dreams. Our delicate chains hold a world of elegance in their petite embrace, a testament to the beauty in simplicity. 
Material: Gold Filled
Pricing starts from $55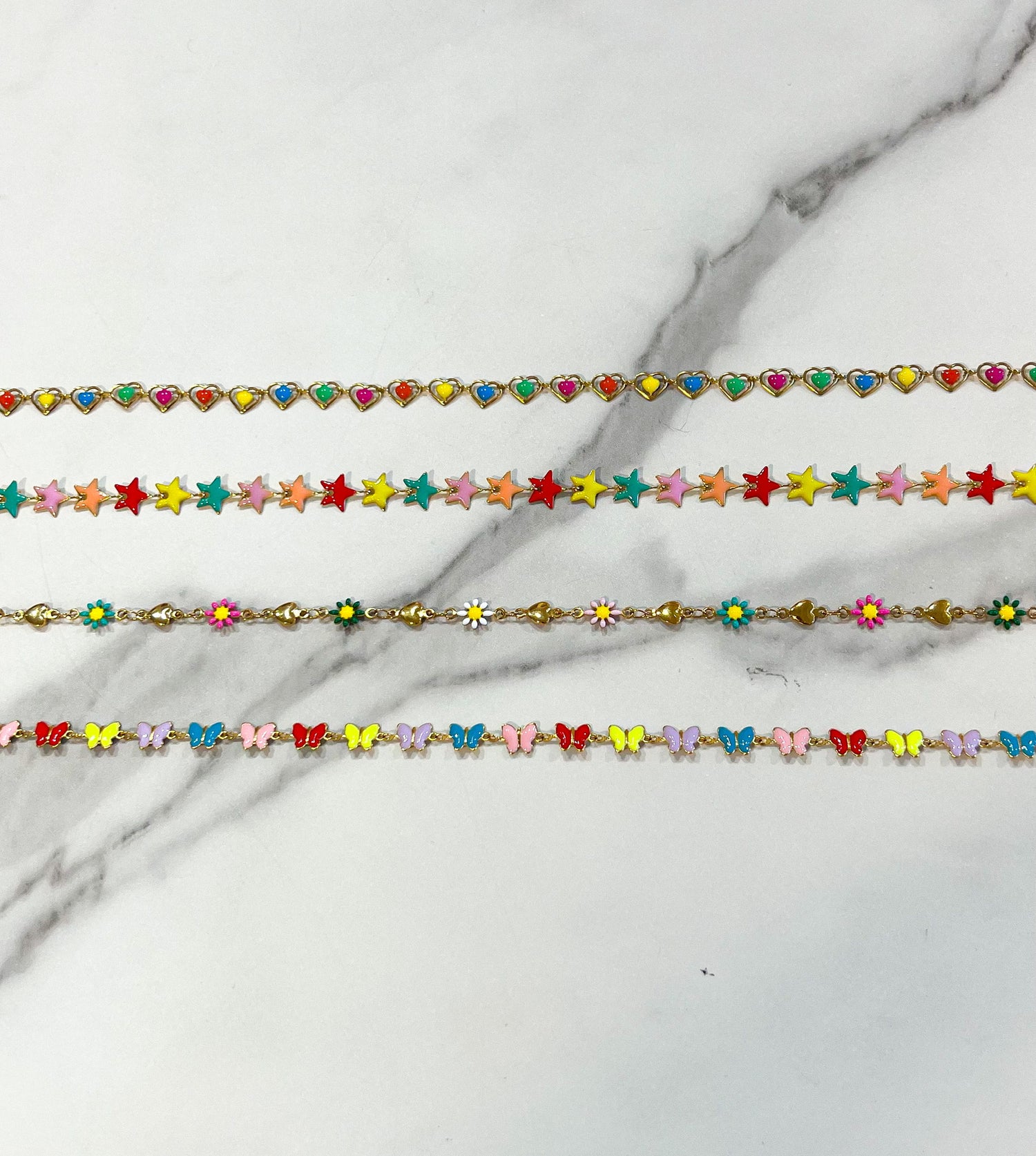 Auric Rainbow
Elevate your style with a burst of colors. Our vibrant chains intertwine shades of life, embodying energy and radiance. 
Material: Enamel Gold Plated
Pricing starts from $55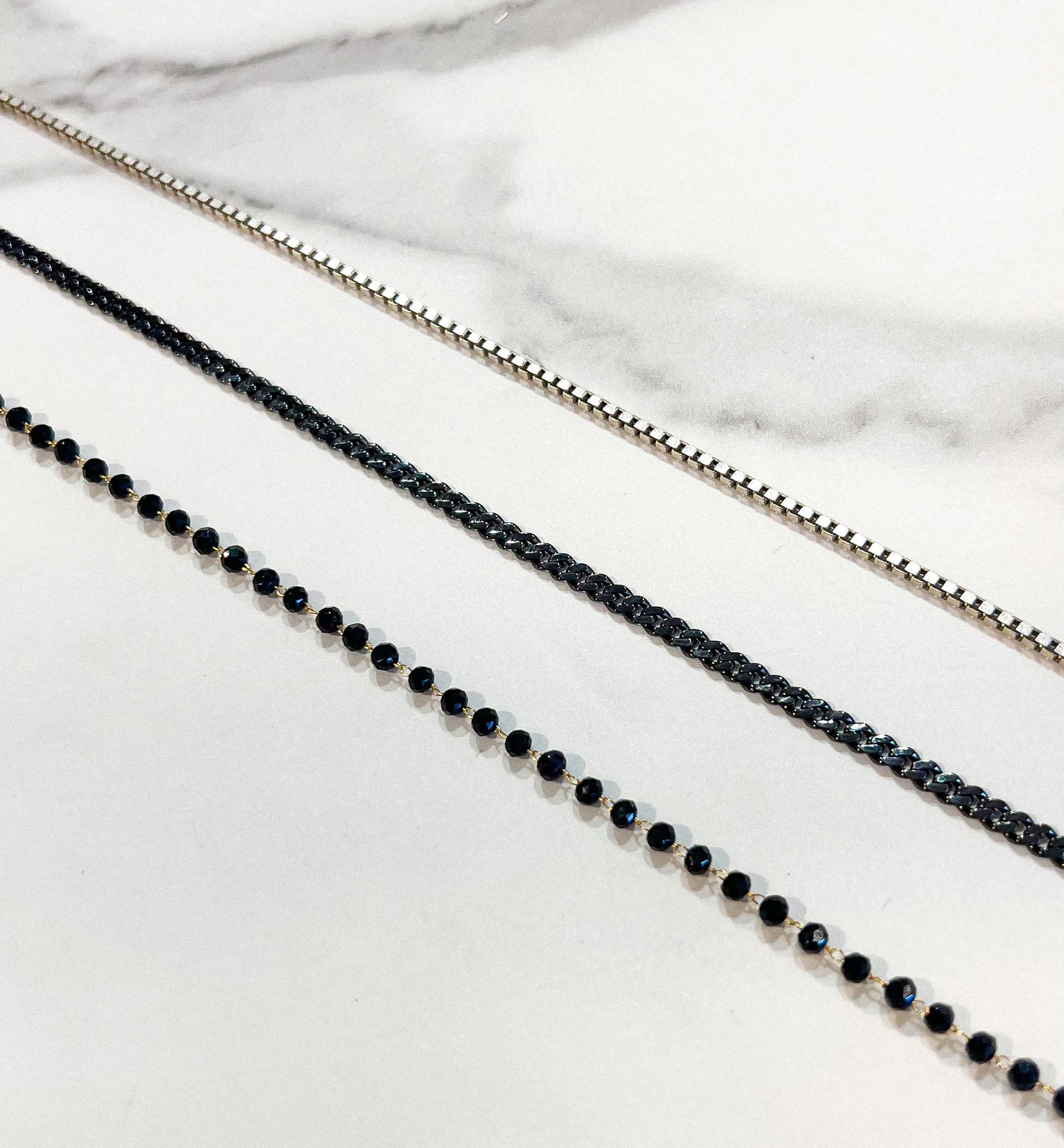 Dark Allure
Embrace the allure of darkness with our black chains. Each link is a statement of bold elegance, weaving mystery and sophistication into your style. 
Material: Stainless Steel
Pricing starts from $50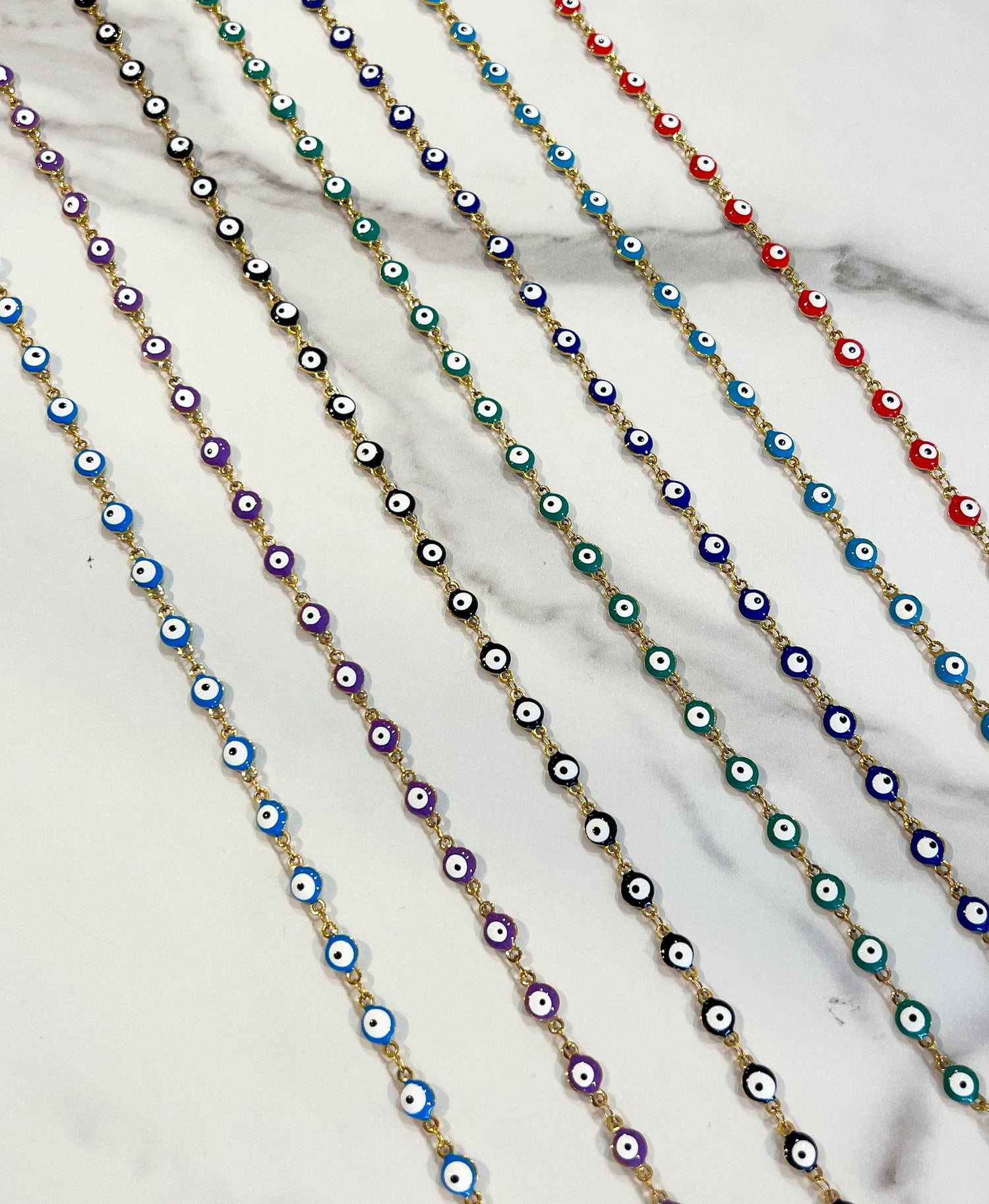 Mystic Eye Guardians
Ward off negativity with our enchanting evil eye chains. These captivating nazar add both protection and intrigue to your jewelry collection. 
Material: Enameled Stainless Steel
Pricing starts from $55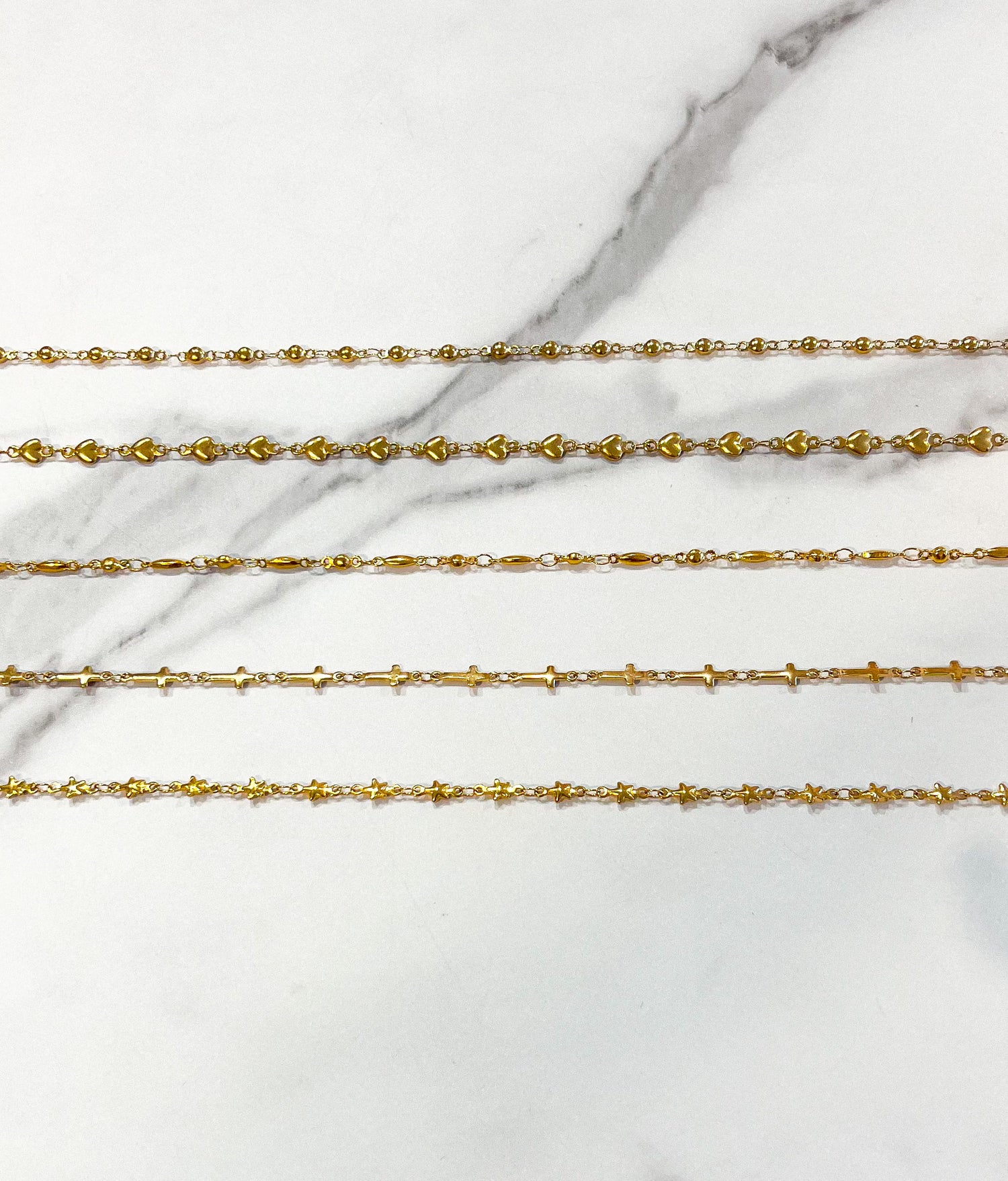 Peculiar Elegance
Embrace the artistry of individuality as you curate your ensemble with these luminous strands, each whispering a tale of elegance and personal flair. Discover the harmony in diversity, and let your style resonate like a masterpiece.
Material:
Pricing starts from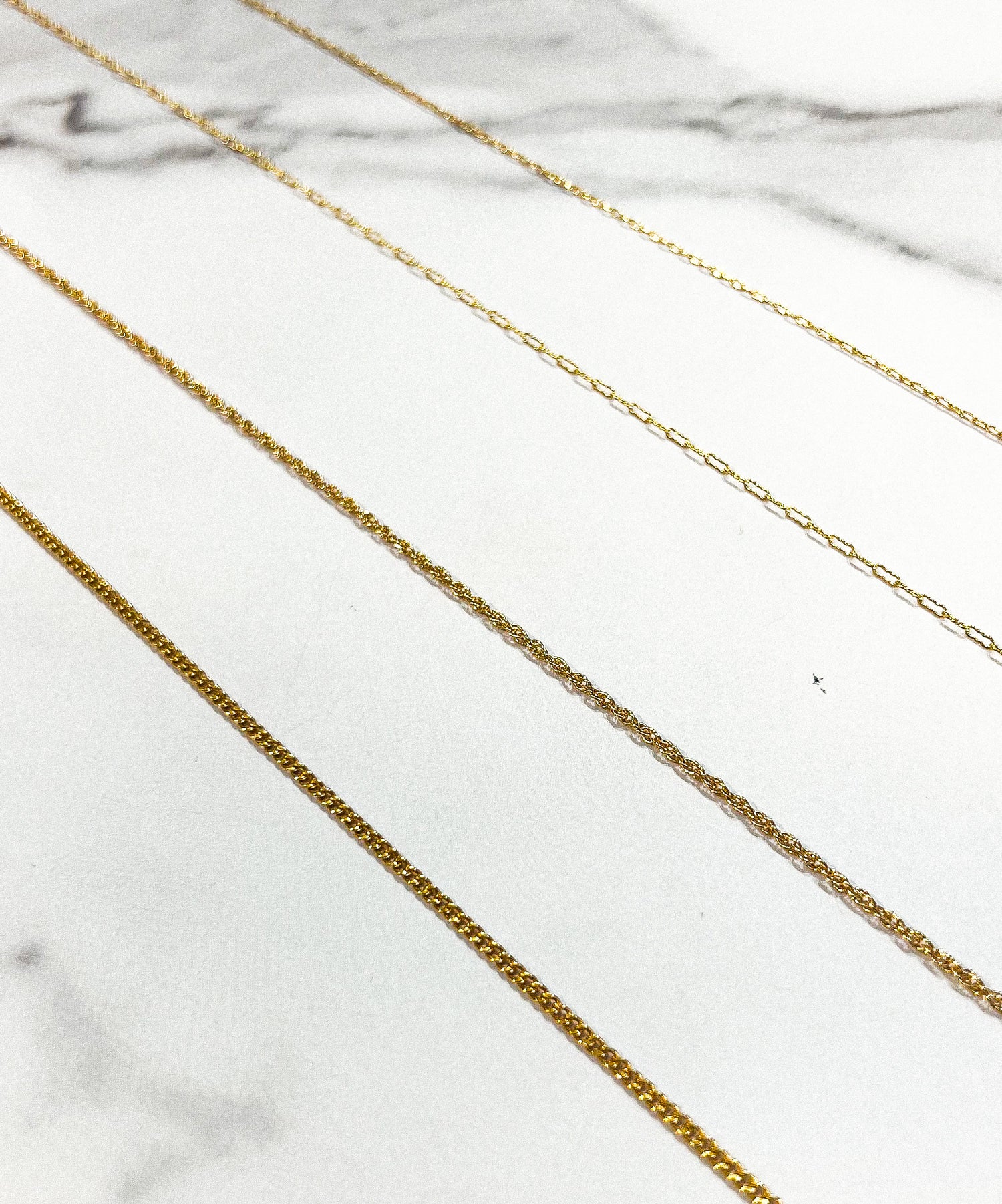 Dazzling Gold
Adorn Yourself with a Tapestry of Styles. From the timeless sophistication of classic links to the contemporary allure of intricate weaves, our collection of gold chains offers a symphony of choices for every fashion desire.
Material:
Price starts from: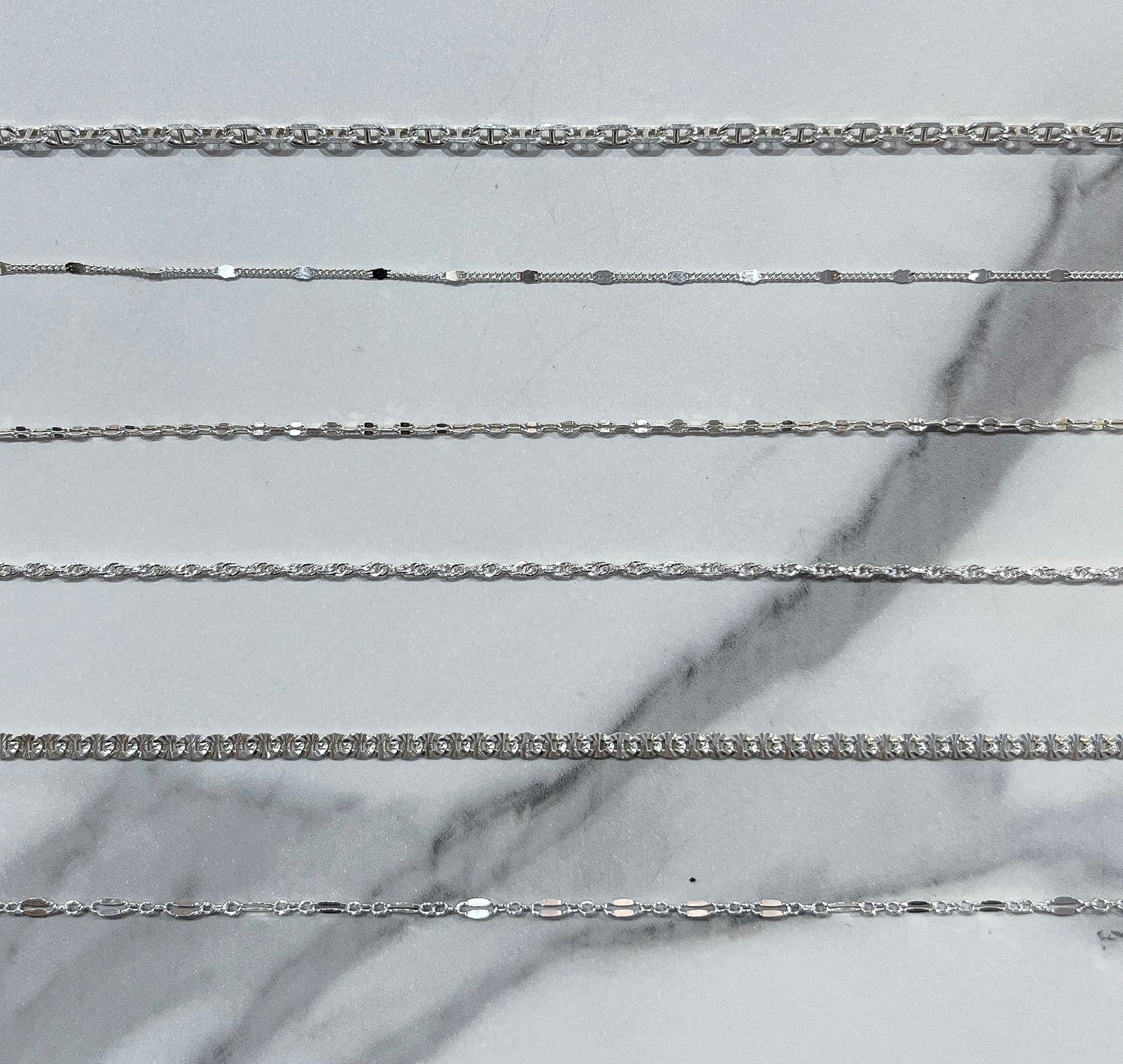 Luxe Silver
Elevate your style with the timeless allure of our exquisite silver chains. Crafted with precision and passion, each link tells a story of sophistication and versatility.
Material: